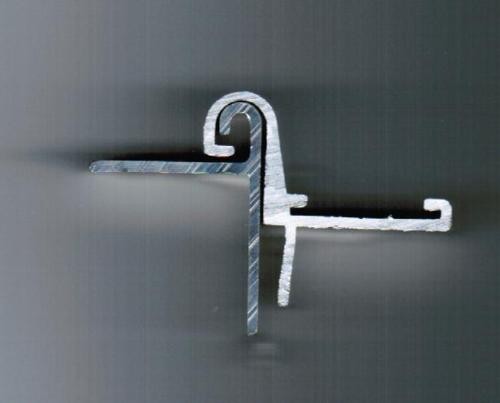 One 48" Heavy Duty Offset Aluminum Hurricane Hinge

Frank Bear Offset Hurricane Hinge
(Leak-Proof Galley Lid Hinge)

"Test Proven to be the Best"
2-Piece Extruded Aluminum Aluminum - Mill Finish!

Lower Profle Crown

Tighter "Nesting Pocket" within the Crown (less slop/play)

1/4" Lid-to-Roof Offset! (No need to knotch wall)
The Offset Hurricane Hinge comes in several different lengths:
4ft -$52.00 - free shipping
5ft -$71.00 - free shipping
6ft -$91.00 - free shipping
add $19.00 for each additional foot up to 8' maximum length
I've found these hinges with the offset to work great on our teardrop trailer's providing a little extra room for the seal to work better on our rear galley lid doors giving maximum performance and stability. Includes Black PVC Insert molding. Available in lengths up to 8ft.
This is not a light duty version as sold by many. It is the Original Heavy Duty One!