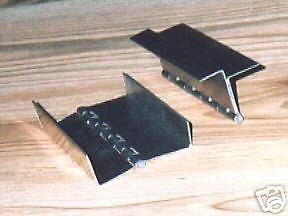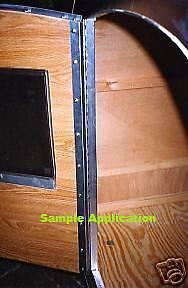 Door Drawing below:


One Custom Formed Offset Aluminum Piano Hinge 36"
We form these high quality aluminum hinges 1" offset on one side and 3/4" offset on the other extending the door slightly to allow room for T Molding, Jamb Liner, & Rubber Weather seal. Give us a call, we will be glad to discuss and custom form Aluminum hinges for your application at 517-741-5000 or emailing us at frankbear007@gmail.com
I've found these hinges to work great on our teardrop trailer's side entry doors or any vintage trailer giving maximum performance, stability and maximum weather sealing. These hinges attach to the inside of door eliminating the looks of a large hinge on the outside and making it much easier to waterproof. By offsetting the hinge you can allow space for weatherstrip and any additional trim you use to finish door.